M38R Surface Mount Rotation LED Gobo Projector
A compact, lightweight gobo projector with built in rotation, simple focus, and installation.
A powerful, high-quality driver and a great optical system, makes this surface mount projector perfect for not just permanent installations but can also be used at events, or added into an exhibition booth.
The high-quality optical system is the best we have seen, producing a crisp vivid gobo image. The flat field gives you a crystal-clear projection right to the edge.
High quality optical system offers sharp image quality
Built in rotation – on/off switch located on the base
Simple focusing after install
Standard 22° Medium Lens
Passive rear fin cooling
Currently available in black
38W 50,000hr LED
Cool white LED as standard. Warm white available upon request
Fitted with an Australian standard 3 pin plug 240V AC
Projection Solutions: Logo projection for a business entrance | Exhibition display booths | Building tenant list | Directional signage | Image projection in bars or clubs | Projected safety signage in dry factories
fixture in use
Specifications
Image Size and Brightness
downloads
Physical Dimensions
• Length (excluding lens): 250mm
• Height: 290mm
• Weight: 1.5kg
Electrical
• Australian standard 3 pin plug 240V AC
• Input Voltage: 220-240V AC
• Average power consumption: 38 watts
Gobos
• Outside diameter: 37.5mm (+0/-.03mm)
• Maximum image diameter: 28mm (for flat field crisp projection eg logos)
* a larger image area can be used for soft edges eg. breakups
• Maximum thickness: up to 5.0mm
Optics
• Light Source: 38W LED Capsule
• Cool white 7000k as standard / warm white 3000k available on request
• LED Lifetime: 50,000 hours
* figure obtained under manufacture's test conditions
Medium Lens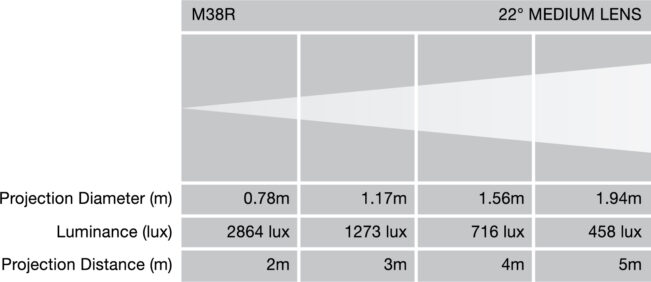 Didn't find what you were looking for?