gobo PROJECTORS
Lighting has a powerful effect on how we feel and interact with a space.
Image and logo projection creates an eye-catching way to promote your business, to convey a message and giving you an alternative to conventional signage. The urban realm can be transformed, making people feel safer and improving the night-time economy and environment.
IMAGE PROJECTION SOLUTIONS
At Gobotech, our aim is to find you the best image projector for your unique situation.
As a gobo manufacturer, we make gobos for all fixtures on the market, so we have an exceptionally good idea of the good… and the bad. We source, test and develop projectors, only stocking those that are built to last and with a high-quality optical system; ensuring your image looks crisp and clear when projected.
Our gobo projectors range from small compact fixtures to suit projected signage for an office space, footpath projection or to include in your exhibition display booth, as well as high powered IP65 fixtures suitable for building facades, projected safety signage for factories or other well-lit areas.
Indoor Gobo Projectors
Small, compact fixtures. Perfect for an office space with various mounting options.
Outdoor Gobo Projectors
IP65 rated, suitable for exterior installations, footpath signage or building facades.
Projected Safety Signage
A long-lasting, durable signage solution, to keep your staff and customers safe.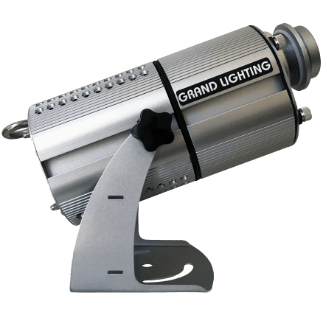 GOBO PROJECTOR ONLINE CATALOGUE
Browse through and compare our current gobo & effect projectors.
Unique or Unusual projection installation?
Gobotech specialises in custom built image projection solutions. We will work with you on your project to ensure the best outcome is achieved.
HIGH QUALITY
LED GOBO AND EFFECT LIGHTING
Along with being a reseller for other brands, we have brought out our own range of LED gobo projectors – Grand Lighting.
These range from 10W to 300W, but it is really the combination of lenses that makes the difference in projection rather than just raw power.
We strive for clear flat field projections that can achieve the best results when projecting logos or allow you to push the edges if you are after more of an ambient effect.