Your complete guide to Gobos
We might be a little bias here at Gobotech; however, gobos can be a striking and versatile alternative to traditional printed media.
Originally used throughout the television and theatrical industries, gobos are now used to transform an event space, creating the right atmosphere or add a wow-factor. Gobos are also becoming popular for promotional, and safety use for businesses.
Our guide will walk you through the types of gobos available as well as tips and tricks on their use.
"The Make Believe Project" St Kilda Library – Artist Victor Holder-Rodriguez
Audiovisual (& client) – Resolution X | Fixture: Clay Paky Alpha 1500
What is a Gobo?
A gobo is a small circular disc, of an image or logo, that when put into a gobo projector, projects the image. The design could be anything, from a simple pattern, to a logo or message, a complex drawing or a photographic image.
A gobo can be used to project:
Logos, text or messages
Abstract patterns
Photographic images – both greyscale & colour
A gobo projector cannot:
 Project a video – This is called 'data projection'
Project a 'digital' file that has been sent from a laptop or device.
Gobo types
Gobos are made from either metal or glass. Metal gobos are typically used for patterns or stencil images, whereas glass is used for more complex designs, as well as photographic images.
Here at Gobotech we manufacture:
Stainless Steel Gobos
Black and white Glass Gobos (also known as blackline)
Spot Colour Glass Gobos
Full Colour Glass Gobos
Note: You can also get plastic gobos from some suppliers, however because of the heat produced by most gobo projectors, there are very few projectors that are able to take plastic gobos.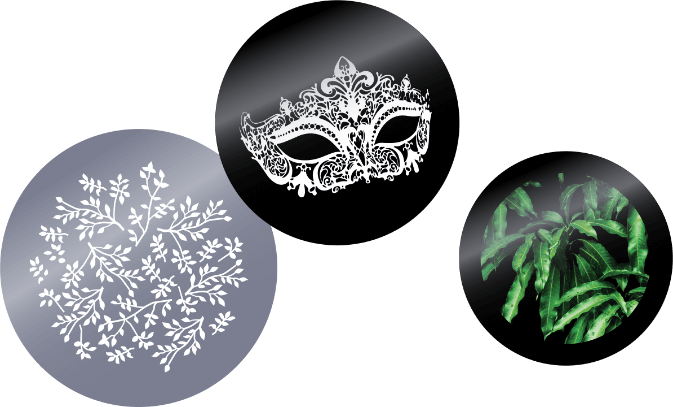 Stainless Steel Gobos
Steel gobos are just like a stencil cut out of the image or logo. They are a great cost-effective way of creating a gobo but do have restrictions on the amount of detail that can be achieved. They also tend to not last as long compared to glass gobos because of the high temperature in a lot of gobo projectors.
Because they are a stencil cut out some letters/images may require a small piece of steel, that we call a 'tab', to hold it together and to also ensure it does not warp with the heat of the light. Some images lend themselves well to stainless steel, others do not.
Whether a design will work in stainless steel is determined by:
The detail in the design
The gobo size
If the fixture can take stainless steel
| | |
| --- | --- |
| Audiovisual & Client: Staging Dimensions | Fixture: Profile Lights | Client: ImproMafia | FIxture: Profile Lights (B SIze) |
Black and white glass gobos
By far the most popular type of gobo, black and white glass gobos are manufactured using a high-resolution process. This enables you to reproduce your logo without the need for tabbing, create gobos from fine detailed artwork, even on the smallest of gobos, as well as project photographic images. Glass gobos can withstand higher temperatures making them more suited to newer gobo fixtures.
The gobo is created with a reflective 'mirror' surface on one side and a black or white surface on the other side. The black or white surface drastically cuts down the reflections inside the fixture and increases the sharpness and clarity of your image, with less 'glow' around the projected image.
| | |
| --- | --- |
| Client: Campari | Fixture Grand Lighting GL30XHP70 | Client: Brisbane City Council | Fixture: Derksen PHOS 45 |
Spot colour glass gobos
Spot colour glass gobos will give you the ability to project open white and one other colour. These are typically used for logos, because most have a variation of one colour and white/black in their brand guidelines.
They are a two-layer gobo that is produced with a blackline layer sandwiched to a single colour dichroic layer. If the light allows it, we then put them into a protective ring.
Not all colours are available as spot colour gobos. You can view our current range of dichroic spot colours here.
| | |
| --- | --- |
| Client: Brisbane City Council | Fixture: Derksen PHOS 25 | Audiovisual & Client: ELS Productions | Fixture: Grand Lighting GL80 |
Full colour glass gobos
Full Colour glass gobos are spectacular once projected. You can produce intricate detailed gobos or photographic images with multiple vibrant colours, gradients, and shades.
We use the Beacon Full Colour™ process. They are manufactured with a single blackline layer and three ultra-thin 0.1mm thick dichroic layers to achieve the four-layer CMYK gobo. Then the layers are carefully sandwiched together underneath a microscope. If the light allows it, we then put them into a protective ring.
Note: Full colour glass gobos need to be handled with the utmost care when loading in and out of the gobo holder.
| | |
| --- | --- |
| Audiovisual & Client: Creative Lighting & Sound Systems | Fixture: Grand Lighting GL30 XHP70 | Audiovisual & Client: Novatech Creative Event Technology | Fixture: VL4000 |
Colour Gobos
At Gobotech we will always be honest, and only suggest what we think will achieve the best outcome for your design once projected.
Colour gobos and Pantone colours
It is important to keep in mind that projecting and printing colours is vastly different!
The exact colour you see once projected is going to depend on the colour temperature of the light, the surface you are projecting onto as well as the ambient light in the projection area.
Colour gobos are individually hand crafted; we take the utmost care to match colours as close as possible but, in the end, colours will be as close as the process allows.
PROJECTING DARK COLOURS
White is the brightest colour you can project and there are some colours that do not work well once projected, an example of this would be navy or dark purple.
We completely understand you may have brand guidelines you need to stick to; however, we will always be very honest if we think an image or colour will not work well once projected.
There are a few different ways to adjust images with dark colour to work for projection. Usually, the dark colours are changed to open white, or we can also add a 'stroke' of white around the dark colours. Once we see your artwork, we can suggest the best possible solution for your design.
projection location
projecting at an angle
Something to keep in mind is the angle of projection. If you are projecting a gobo from an angle, rather than perpendicular to the centre of projection, you end up with a warped, out of shape image. This is called a 'keystone effect'.
How badly an image will distort will depend on the image, some are more forgiving than others, as well as the angle itself. The more severe the angle, the more severe the distortion.
Keystone correction is what you can do to correct the unwanted distortion. It can be done one of two ways:
Visually using a lineup grid gobo
Using a little geometry
We do not charge for keystone correcting your image, it is part of the service. Have a chat to us if you are projecting at a severe angle, and we can determine which way will be most suitable for your install and timeframe.
front vs rear projection
Glass gobos are non-reversible, with the reflective mirror surface always installed facing the lamp. It is therefore particularly important to let us know if you are front or rear projecting.
Front projection is when you are projecting directly onto a surface it will be viewed from, for example a wall.
Rear projection is when you are projecting onto a translucent, transmissive screen and viewing the design from the opposite side, for example a stage screen or a marquee roof.

Your gobo questions answered
What do I need to project a gobo?
There are two main components needed to project an image:
The gobo itself
A suitable gobo projector
What size gobo do I need?
There is no such thing as standard sizing when it comes to gobos. The size is going to be determined by the make and model of light you are putting the gobo into.
If you are going through an audio visual or event company, they will need to give you the light and sizing details. If you have purchased the light, then the supplier will have this information.
Currently we have data on over 450 gobo projectors… and the list is growing as new gobo projectors come onto the market. We try our best to collect sizing and restrictions on gobo fixtures, but it is important you know your light and what you can/cannot put in the fixture.
Which gobo projector should I use?
There are several variables to consider when you are choosing your gobo projector, which depends on what you are trying to achieve.
If you are using it for an event and wanting to hire a fixture, you will need to have a chat to your venue, or alternatively have a chat to an audio visual or event company. They will be able to guide you on the best suitable projector/s for your event.
We have the pleasure of working alongside amazing DJ's, event and audio-visual companies based all around Australia and New Zealand. We are happy to put you in touch with some contacts.
If you are wanting a gobo projector for a permanent installation, then get in contact with us. We have a large range of gobo projectors suitable for permanent installations. If we do not have something that will suit your requirements, we can put you in touch with another gobo projector supplier.
For permanent installations we have also created a 'Guide to choosing your gobo projector' which you can check out HERE.
How long does a gobo last?
Generally, glass gobos last longer than stainless steel. This is due to the high temperatures in the gobo fixtures. If you are doing a permanent installation, then we would probably recommend glass over stainless steel.
Glass gobos do need to be handled with care though, especially full colour gobos. How well you take care of your gobo will determine if it lasts the test of time.
How do I get a quote on my custom artwork?
Pop us through an email with your artwork, gobo details and deadline and we can take it from there.
To find out more information on custom gobos please check out our custom gobos page HERE.
How long does manufacturing take?
Our gobos are made in-house at our Gold Coast factory. Glass gobos are manufactured daily, and steel is manufactured a few times a week. It is particularly important you tell us when your event is as we will always work within your deadline prioritising urgent requests.
As soon as we receive approval of proof and payment, manufacturing and shipping happens within 1-2 business days in most cases.
To find out more information on custom gobos please check out our custom gobos page HERE.
Question about gobos?
Whether you are an experienced lighting designer, or a complete beginner, our team at Gobotech is here to guide you, and answer any questions you have about gobos and gobo projectors